March 31st, 2012
Although mid length hair styles are versatile, there are cuts that bring out the best of women's facial features and hair textures. Considering this valuable information will help choose the most appropriate style that will make you more stand out in the crowd and make you more confident without great effort on both the stylist and on your home care maintenance. There are four basic face shapes: oval, round, square and long.
Oval, or egg-shaped, is considered the classic and ideal face shape. The widths of the forehead and the jaw line are the same. All mid length hair styles whether straight, wavy or curly will fit an oval shaped face. But to flaunt that perfect face shape, styles with locks on the face must not be worn, such as heavy bangs and curls or waves that cover the perfect face shape behind. Soft layers will add volume to fine hair while blunt cut is good for women with thick textured locks.
For a round face, the best option is to project an oval look. The most appropriate mid length hair styles for round face are: (1) haircut below the chin and the sides framing the face and creating the illusion of height at the top (2) longer than chin length cuts but with crown layering and locks framing the face (3) styles with short fringes will add the illusion of face length. Styles with curls which bring out the roundness of the face and styles that pull locks away and expose the face should not be worn. Also avoid parting at the center, straight choppy bangs and a face framing cut ending at the chin will accentuate the roundness of the face.
For an oblong face, or with face length greater than the width mostly characterized by having long chins and high foreheads, hairstyles must aim to add width and volume. For length countering, suggested style is the wedge cut. Locks must be worn above the shoulder level because too much length will give your face much longer. Center parting is also discouraged.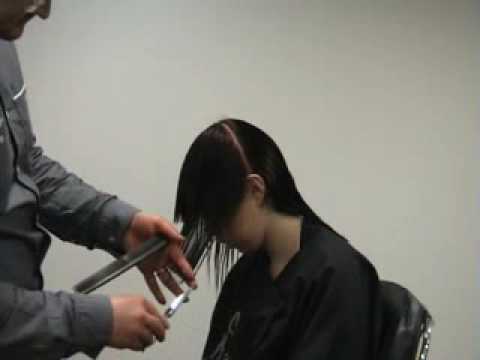 Heart shaped face is characterized by a wide forehead and a narrowing jaw line. Again, suggested styles will be to make an illusion of wider chin such as: chin length with soft curls and chin length bobs for wider chin effect. However, no-no cuts are full hairstyles that emphasize the upper face making you look heavier. Instead, stress your finer point-your great cheekbones.
The angular jaw line is what the square shaped face possesses. To shift the focus from the jaw, suggested cut is the one that brings out other facial features with framing. Bangs and layered locks will cover the imperfections of angular jaw lines and foreheads. This will give an illusion of a perfect oval shaped face.
Having oval shaped face is a gift, but having non oval face shapes does not prohibit women to have the pleasure of wearing the stunning mid length hair styles.